Security forces killed four terrorists who attacked the Pakistan Stock Exchange (PSX) building in Karachi. At the start of the morning trading session on the stock exchange, a large number of people were moving when the terrorists attacked.
According to initial reports, four terrorists entered the building at 9 am and opened fire and a grenade was hurled at the entrance, killing at least two civilians and injuring several others.
Police Surgeon Dr Qarar Ahmad Abbasi said five bodies and seven injured people, including policemen, were brought to the Civil Hospital.
Meanwhile, Faisal Edhi while talking to media said that the four attackers were killed as a result of retaliation by the security agencies.
In a statement issued regarding the attack, Sindh Rangers said that all the terrorists involved in the attack were killed and now the clearance operation is underway.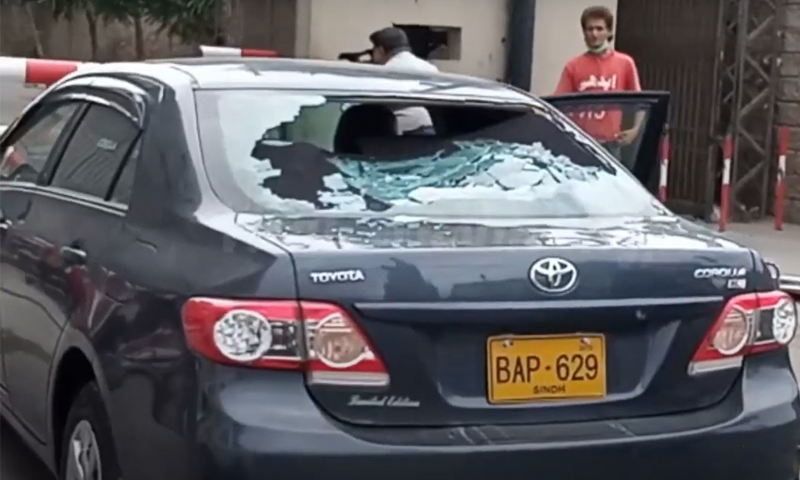 Weapons and grenades were also recovered from the attackers.
On the other hand, IG Sindh Mushtaq Ahmed Mehr immediately demanded a report from DIG South on all media reports regarding media reports regarding firing and grenade attack near Pakistan Stock Exchange.
As soon as the incident was reported, a large number of rescue agencies rushed to the spot while Faisal Edhi himself took part in transporting the injured to the hospital and other operations.
Notice of Governor Sindh
Sindh Governor Imran Ismail condemned the attack on the Pakistan Stock Exchange, saying it was aimed at undermining our ongoing war on terror.
In a tweet on social networking site Twitter, the Sindh governor directed the Inspector General (IG) of police and security agencies to catch the culprits alive and ensure stern punishments to their handlers.
He said that we will protect Sindh province at all costs.
Sindh Governor Imran Ismail said the attack was a vicious attempt to tarnish Pakistan's emerging image and economy in the world.
He said that Rangers and police personnel took timely action and brought the situation under control.
Imran Ismail said that we have repulsed the terrorists badly and I hope that the terrorists will also understand that Pakistani police, Rangers are not sleeping.
The Governor Sindh further said that at present Pakistan is the only country with a growth rate of minus 0.4% while the economy of Spain and Italy has gone down to minus 12%, while India has a negative 4.5%. How the economy has survived.
He said that Modi was foolish there and the effects on the economy due to Imran Khan's wisdom could be an attempt to target him.
Chief Minister of Sindh
On the other hand, Sindh Chief Minister Syed Murad Ali Shah also condemned the attack on the Pakistan Stock Exchange, saying that the incident was tantamount to an attack on national security and economy.
The Sindh Chief Minister appreciated the timely action taken by the police and Rangers and directed all law enforcement agencies to be more vigilant.
The Chief Minister said that in view of the epidemic situation, the anti-state elements wanted to take undue advantage, at the same time he directed a full detailed inquiry into the incident and demanded a report